Quality 1st Towing Service in Edison NJ
Looking for a reliable & trustworthy towing service in Edison NJ to help you tow your vehicle to its desired destination anywhere in Middlesex County? Call Quality 1st Towing to provide you with a quick response service.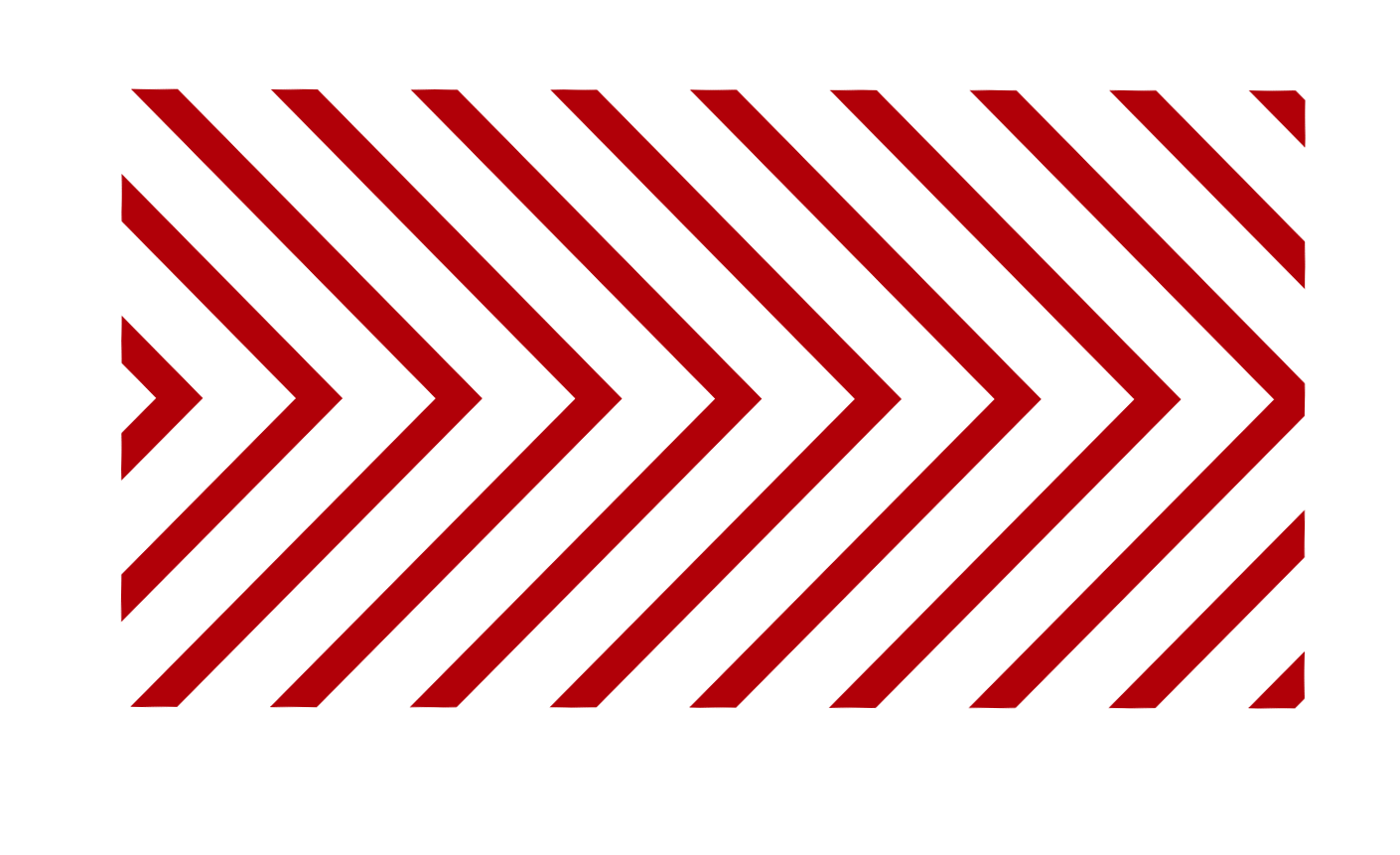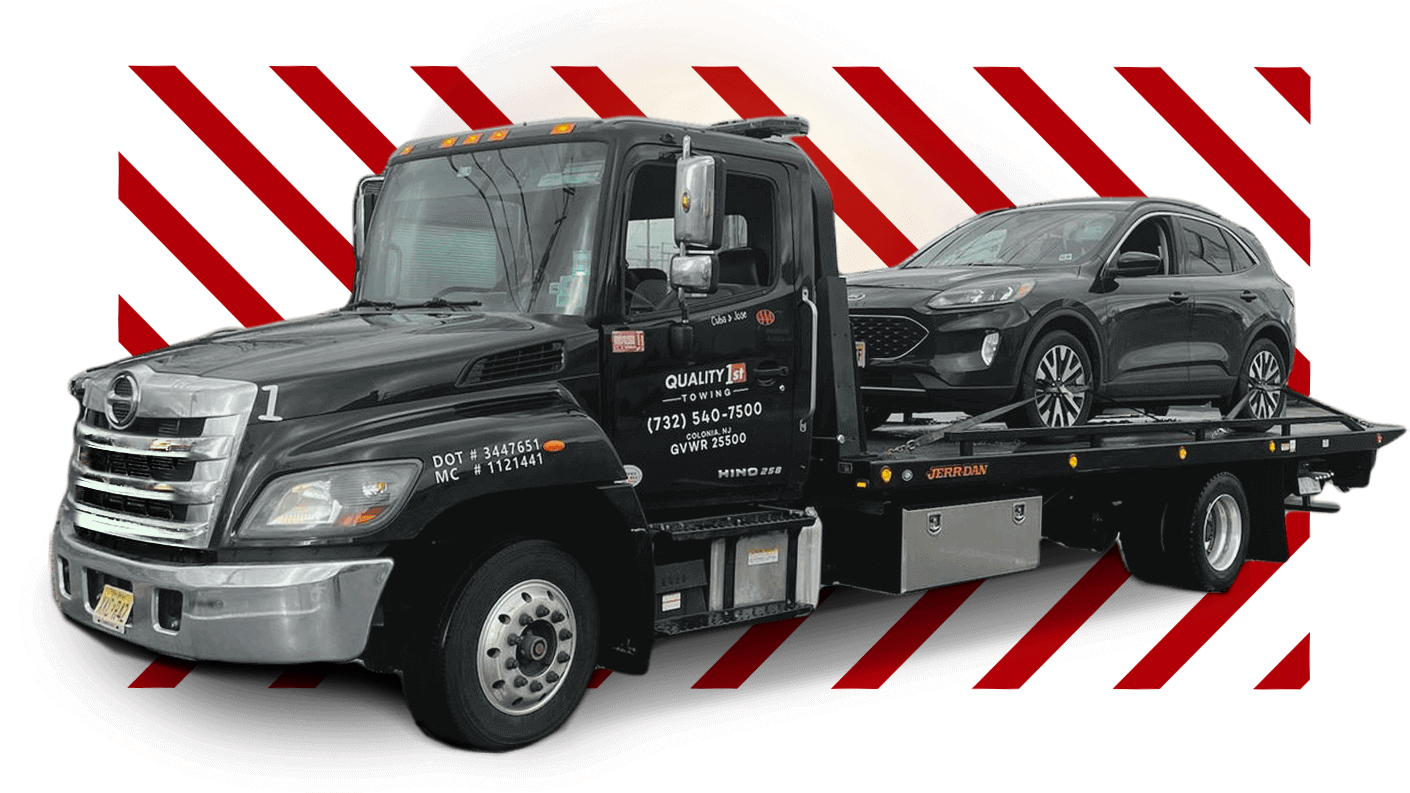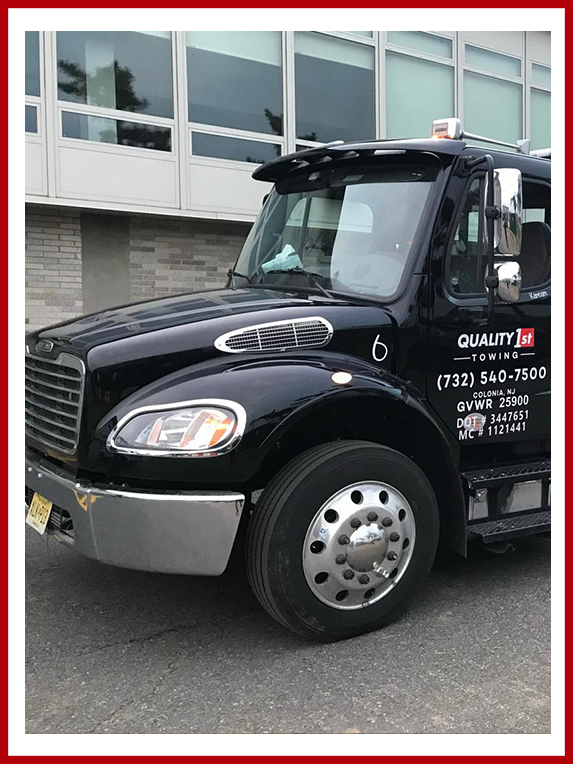 Reliable Tow Truck Service
A Wide Range of Towing Expertise in
Edison Middlesex County
From flatbed tow trucks to vehicle winching tow trucks, we have a large fleet of towing trucks to assist you. Drove yourself into a ditch or has someone wrongly parked their vehicle in your driveway? Call Quality 1st Towing to remove the vehicle from your parking lot once and for all. We serve multiple locations in Middlesex County including areas such as Carteret, Cranbury, Dayton, Dunellen, Colonia and many locations.
Take a look at our complete list of services which we offer in Edison.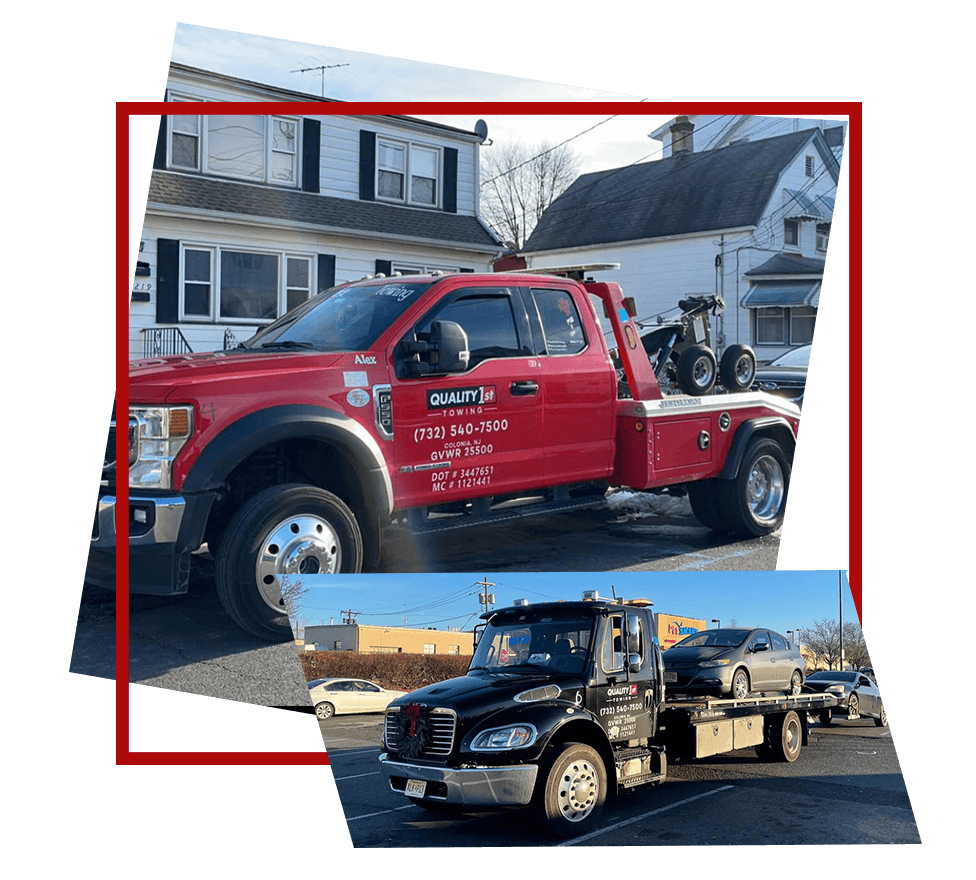 Quick & Reliable Roadside Assistance
in Edison NJ
Getting a flat tire or running out of fuel when you're on the road can become really stressful. Or what if you ran into an accident unexpectedly and now you're in dire need of a wrecker service to take your totaled vehicle to a nearby auto-salvage or auto-repair shop? At Quality 1st Towing in Edison, we are always ready to provide you with quick assistance. We are a towing company in whom you can trust. Let us know of your towing requirements and before you know it, our tow trucks will arrive at your location.
The Right Experts to Manage All Your Towing Problems
A fast and friendly service can make all the difference. Who doesn't want to get on with their lives, at Quality 1st Towing, we can get you back on the road in no time. Whether it's your vehicle's gas gas gauge running empty or you've a flat tire, our towing experts can offer you the best roadside assistance. We also carry equipment to jump start dead batteries or open locked doors of your vehicle.
Why choose Quality 1st Towing in
Edison for your towing problems?
Got a Broken Electric Vehicle in NJ? Get It Towed to Desired Destination
Having trouble with an electric vehicle while you're on the road in New Jersey? Whether you've run into a flat tire or some other electric or mechanical fault, our towing service in NJ can tow your electric car to destinations. Our towing team is available 24/7, so if you have any issues with your electric vehicle, just make the call and one of our tow truck services will arrive to your assistance anywhere in New Jersey. Quality 1st Towing is a Tesla authorized tow truck service where we have the clearance up to Tesla Model 3 towing all across NJ. Are you stuck with a broken electric vehicle and in need of a professional tow truck service to help you with your EV towing requirements? We are always here to provide fast & reliable towing service anytime.
Authorized Towing Provider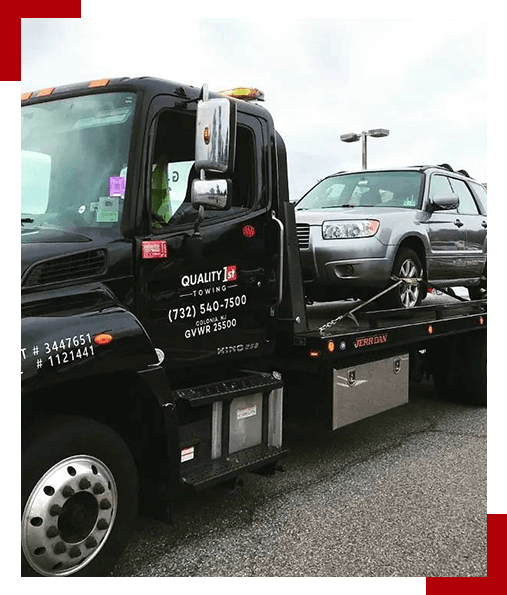 Get Long Distance Towing in Edison with

Quality 1st Towing
Carrying a vehicle over short distances is something that everyone can do but the real challenge is getting them transported safely and soundly over long distances. At Quality 1st Towing, we can handle the transportation of your vehicle over long distances using our flatbed tow trucks. Our flatbed tow trucks have specially designed ramps which can lower down on the road and form an inclination. A vehicle can easily drive itself up on the ramp after which our experts chain it up properly. Once everything is in place and intact, our towing experts get enroute to your desired destination. Moving cities and want your expensive vehicles to be towed across cities?
Are You Looking for an Affordable Towing Service in New Jersey?
If you're looking for an affordable tow truck service with the best professionals, then Quality 1st Towing in the one you need to call.
Get in touch with our experts now. 

Quality 1st Towing in NJ is a highly reputable & reliable towing truck service. Why are we one of the successful towing service providers? Well, it's because we have some of the best tow trucks equipped with the latest towing machinery.